Physical Therapist Assistant Faculty Profiles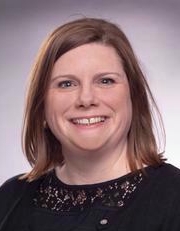 Carolyn Shisler
Assistant Professor Educator, CC Physical Therapy Assisting
285 CC West Woods Acad Cntr
Carolyn is the Program Director for the Physical Therapist Assistant Program.  She began this roll in October 2019.

Carolyn has a B.S. in physical therapy from Marquette University and a M.Ed. in Curriculum and Instruction from the University of Cincinnati.  Carolyn practices physical therapy in the acute care setting and has a passion for treating people who are critically ill, older adults, and people with cancer diagnoses. Despite her teaching and administrative schedule, she continues to work at The Christ Hospital in the acute care setting. She has been with The Christ Hospital for over 25 years.

Carolyn was an adjunct professor and long-time clinical instructor for both PT and PTA students in the clinical setting prior to transitioning to full-time academia in 2015.  She initially was the Academic Coordinator of Clinical Education.  Her goal as a faculty member is to relate her love for her patients and her profession to her students.  Physical therapy is more than just treating a diagnosis, it is treating a person. She is also passionate about teaching physical therapists and student physical therapists the abunance of knowledge and skills that physical therapist assistants bring to the clinical setting and their patients.

Within the PTA Program, Carolyn is responsible for teaching courses relating to professionalism, health care disparities, social determinants of health, cardiopulmonary rehabilitation, clinical integration and integumentary and clinical education.  
Katie Elizabeth Faris
Assistant Professor Educator, CC Physical Therapy Assisting
CLER UCEAST1
June Owens
Instructor - Adjunct Ann, CC Physical Therapy Assisting
CC Snyder Addition