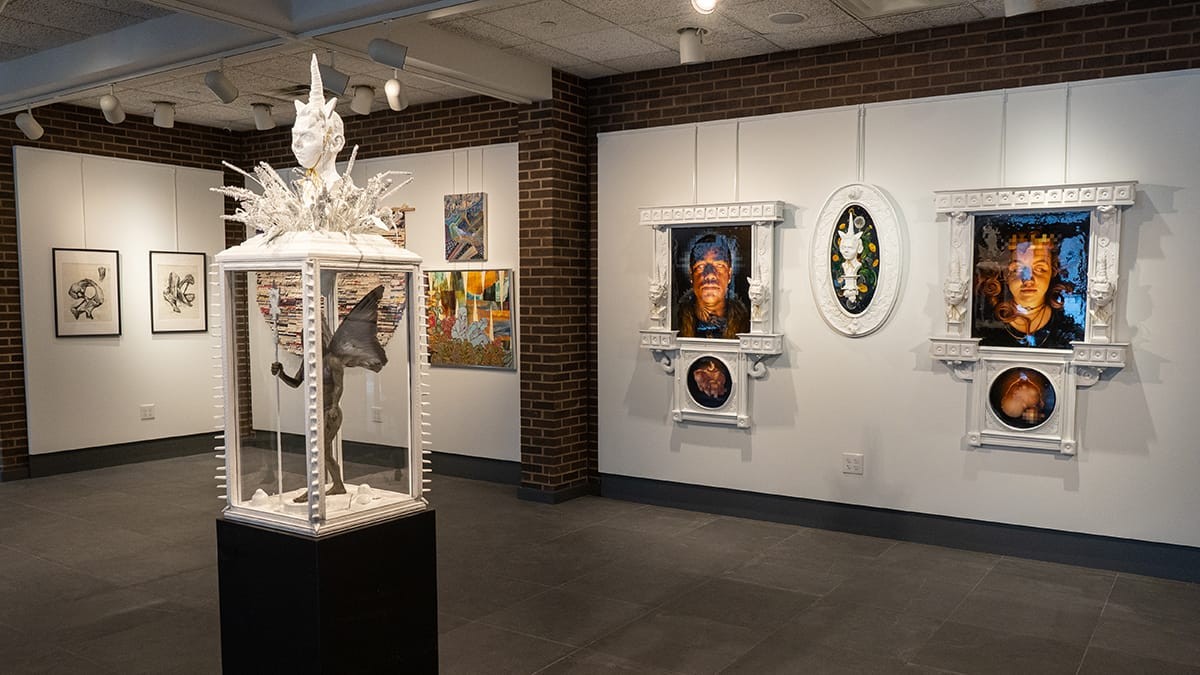 The Gallery will be closed July 1 - September 17 for renovations.  Please join us for Saad Ghosn's exhibit in September. 
September 18 - December14
52 pastel drawings circling around the Circle
& 5 b&w woodcut prints embracing the Circle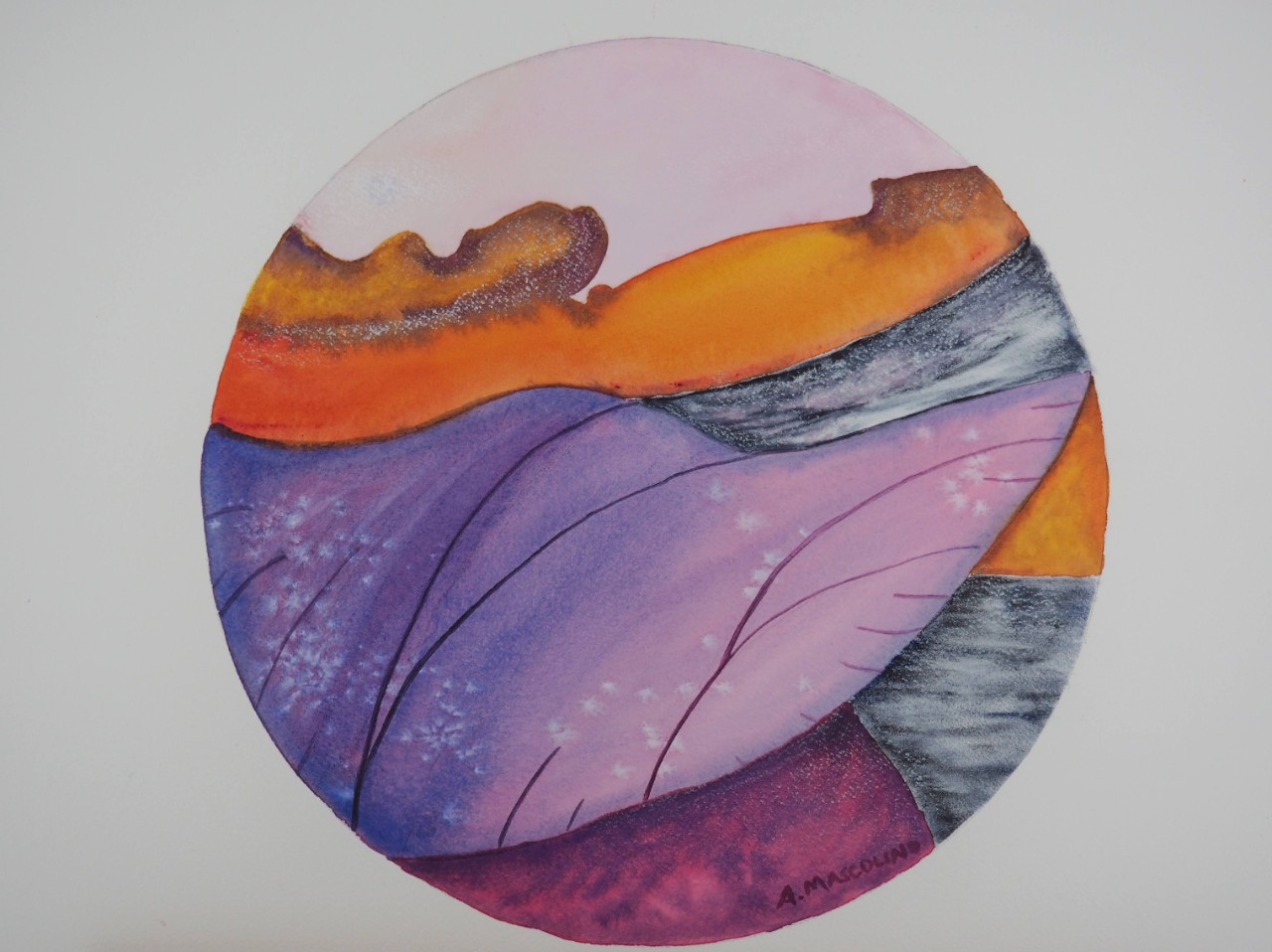 The Covid 19 pandemic had a toll on each of us and was the occasion for the many to get more in touch with ourself, with our life and its meaning, with the reality of death… It also highlighted inequalities and injustices, greed and bigotry, pain and suffering, the
absurdity of our attachment to material values… For me it was the start of a long journey of sadness and anger, but also of questioning, of a renewed creative energy searching for the essence of what it meant to be human, and of what my aspirations and goals where in this regard.
During the 2021 year of imposed isolation I resorted to creating each week a pastel drawing on the theme of the Circle. The Circle for me represented connectedness, harmony, unity, common finality..., values I aspired to. I used it then in my search for spirituality, for relatedness, in my need for contemplative meditation…
During the same period the Circle creeped into my b&w woodcuts, making its presence known through whimsical images that also addressed our spiritual and fantasied aspirations, away from the prevalent somber mood of the time.
I wanted to show all my Circle images together, even if after the fact, and maybe especially after the fact, to remind me of that period. I wanted to feel and share their energy, to connect the viewer to their meditative quality, and thus contribute, even if only a little, to a strengthening of the spirituality so badly needed in our world.
My exhibit is dedicated to all those who suffered, pained, died during the pandemic; to all those who offered love and compassion, lent a helping and comforting hand; to all those who reminded us of the essential values of spirituality and free giving, and who, by this doing, planted seeds for a better world.
Saad Ghosn, a native of Lebanon, has been living in Cincinnati since 1985. A retired medical professional and educator, a Professor Emeritus of Medicine at the University of Cincinnati, Saad resorts to visual and spoken art to express himself and convey his social and political views.
Saad strongly believes that activism is at the heart of art expression. He is the founder of 'SOS (Save Our Souls) ART', a Cincinnati-based organization that promotes the use of art as a vehicle for peace and justice and for a change toward a better world, and which holds, now in its 21st year in Cincinnati, Ohio, a yearly collective art exhibit and an art festival of creative expressions of local artists for peace and justice. He is also the editor and publisher of the yearly 'For a Better World, Poems and Drawings on Peace and Justice by Greater Cincinnati Artists', now in its 20th year.
Saad has also written many articles about Cincinnati's artists activists who use their art for a change, also a 2015 book titled: "Greater Cincinnati Artists as Activists" featuring 50 such local artists.
Saad is the President of "SOS ART" the non-profit organization incorporated in 2015 whose mission is to encourage, promote and provide opportunities and venues for all the arts as vehicles for peace and justice and for all the artists to use their art as their voice for a change and for a better world.
For the past few years Saad has mostly used printmaking in his own art. In 2008 he received a Cincinnati Individual Artist Grant for his printmaking work that resulted in the creation of "SCREAM", a socially and politically themed portfolio of 20 b&w woodcut prints. He has shown his work locally, nationally and internationally in hundreds of solo and group exhibits, and his work is in many collections, private and public including the Cincinnati Art Museum and the Miami University Art Museum.
In addition to his own work, Saad has been curating art shows locally and internationally for the past
thirty five years. His focus is always on empowering local and other artists and on promoting their use of art as a vehicle for a change. In 2016, he took SOS ART to his native country Lebanon. He has also worked with printmakers form Oaxaca/Mexico, Lebanon and Czech Republic, sharing their work as social and cultural reflections of their country's reality.
Visit sosartcincinnati.com for more information.  
Gallery Hours
Monday - Friday 8 a.m. - 5 p.m. and by appointment
Closed weekends
The gallery schedule is subject to change.
All receptions and events are free and open to the public.