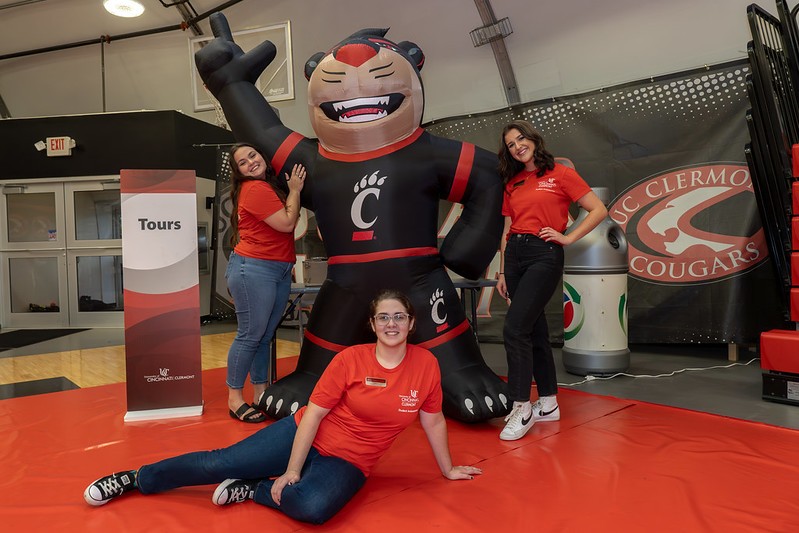 The Student Ambassador program was created to represent the "face" of our student body. This exclusive group actively engages in ongoing UC Clermont College events and programs and gives tours to prospective students. Each Ambassador sees campus through a student's eyes, which allows them to develop their leadership skills while supporting the college. Student Ambassadors are proud that they made UC Clermont their next step and want to help others follow their lead.
Our mission:
The mission of the Student Ambassador Program is to cultivate student leaders who will share the UC Clermont College experience with prospective students, their families and community members. Ambassadors exemplify outstanding academic achievement, involvement with the campus community and participation in student life and activities. Ambassadors create a positive and lasting impression thus enhancing the reputation of the college and university.
Student Ambassador Responsibilities
Serve as the "face" of student body and actively engage in ongoing college events and programs
Represent UC Clermont to prospective and current students, as well as faculty, staff and community members engaged with collegiate activities
Guide campus tours for prospective UC Clermont students and their families
Provide assistance to faculty or staff during campus-wide UC Clermont events such as New Student Convocation, Fall Open House, Spring Fling and Calico Children's Theatre Performances
Communicate with prospective students through email, if possible
Why Become an Ambassador?
Ambassadors engage in resume building activities that will provide evidence of leadership qualities, self-motivation and commitment to a project



Ambassadors build confidence in speaking and presentation skills
Ambassadors have the opportunity to learn from and work with college faculty, staff and administrators
How do You Become an Ambassador?
Enroll in full-time or part-time courses for the entire academic school year
3.0 cumulative GPA
Knowledge of the UC Clermont policies, procedures and expectations
Enthusiasm and a professional approach representing UC Clermont
Effective speaking skills
Ability to command an audience
Ability to work well with others
Dedicated to working as a team
For a Student Ambasaador application or more information, contact:

Nikki Vargas
Program Director, Marketing, Communications & Community Arts
(513) 558-1215